Entering our 25th Year in Business – What's in a Number? 
By Bob Kobek, President of Mobius Vendor Partners
What's in a number?
Well, if that number is '25,' quite a lot. There are memories; there are plans; there are significant milestones.
To Mobius VP, LLC, aka Mobius Vendor Partners, aka Mobius, aka MVP… it is all of the above.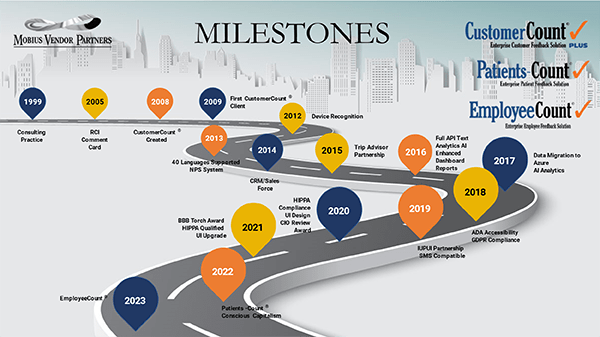 On November 9, 1999 the papers forming Mobius were filed at the Indiana Secretary of State's office and thus began one heck of a great run in business. And what a run it has been.
And we plan on being around 25 years from now.
As it morphed from a contact center consulting firm, Mobius was formed to be a professional business process consulting firm. Our service offerings have expanded to include many milestones producing products and services designed to help manage our clients' needs.
Including, and certainly not limited to, the design and implementation of three premier online feedback management systems – CustomerCount®, EmployeeCount® and Patients-Count® – to measure the experiences of customers, employees and health care patients.
Through the years we have developed our own processes to keep our fees reasonable for our clients, a practice that is very appreciated, and contributes to our client loyalty. 
We'll spend the next year both celebrating our successes and looking toward the future. We can't wait to continue sharing this journey with you!