Keatext Text Analytics
Keatext is a plug-and-play AI-powered text analytics platform that synthesizes in seconds large volumes of feedback from multiple channels. This includes open-survey questions, online reviews and social media posts. The software then produces actionable insights delivered on one comprehensive dashboard.
Designed to minimize response time, Keatext is the industry's most agile cloud based opinion-analysis engine. As such, it relies on deep learning and a rich, ever-growing knowledge base.
With its CustomerCount integration, Keatext text analytics can tap into a "goldmine" of invaluable insights of your customers' wants and needs. As a result, businesses can proactively respond and alter policies before complaints were made.
What is text analytics?
Simply explained, text analytics is an alternative approach to customer feedback. Comprising algorithms, AI technologies and text mining software, text analytics draws meaning or sentiment out of written communication. Inherent in sentiment analysis is a focus on proactive learning, active conversations with customers, and a balance of both granular and global considerations.
Moreover, as consumers share more data and feedback online, they increasingly expect a higher level of responsiveness and agility. No matter the size of the company. In other words, those who harness the power of text analytics are likely to be rewarded with growth, engagement and loyalty.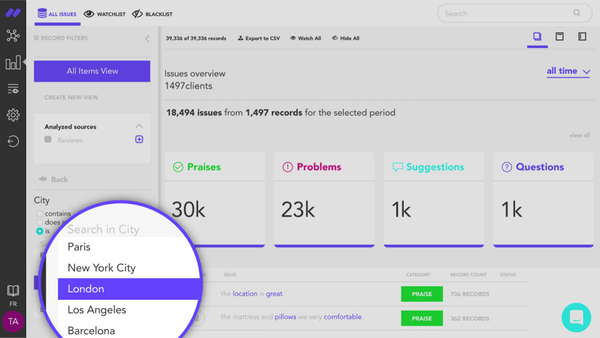 Why Keatext Analytics?
This technology available through our connections with Keatext is the result of more than 20 years of research into Machine Learning (ML) and Natural Language Processing (NLP).
The algorithms are a well-thought combination of supervised and unsupervised ML that allow for the discovery of new insights, without the need for predefined vocabulary or keywords.
It's a breakthrough in the field that has had a tremendous impact on the granularity of the insight that can be generated as well as the accuracy of those insights.
With this algorithm and CustomerCount integration, the tool is capable of detecting topics/problems, and the reasons that triggered those problems.
Keatext has managed to make its algorithms flexible in order to be applied to any type of customer text feedback. You can now analyze multiple data sources at the same time, to get a 360 overview of customer feedback inside a single report. It is not just about getting information about individual pieces of feedback, it's about getting a sense of the big picture. Looking at your data in isolation, doesn't give a true picture of your performance.
State-of-the-art text analytics solutions require defining industry vocabulary and predefined keywords to be able to cope with specifics of the industry. Building that vocabulary for every industry is very time consuming. Using the science, text analytics, and an intuitive UI/UX, the technology does not require any setup and will adjust automatically to industry specifics. You simply upload your feedback and you will immediately see the value.
With CustomerCount and Keatext you can let us do all the AI thinking for you. The Keatext research team is located in the global "AI Hub" city of Montreal, and is a curated team of experts in the field holding Ph.Ds and M.Sc., with a never-ending fountain of talent in Artificial Intelligence and software engineering.
Their tool is proven, scoring the highest accuracy rating against major competitors. Their solution is CX trained, regardless of industry or vertical, and can analyze two languages, English and French.