CustomerCount at the forefront of Customer Experience Management Solutions
CustomerCount® has been recognized by CIO Review in its annual listing of 20 most promising companies at the forefront of providing Customer Experience Management (CEM) Solutions.
One of the US's leading technology magazines, CIO Review guides companies through the ever-changing business environment. It provides regular news  about solutions and services and is renowned as trustworthy source of information. CIO Review provides a platform for executives, buyers, and decision-makers to share valuable insights about technology trends in the market.
CustomerCount president Bob Kobek explains: "We are delighted to be recognized as one of CIOReview's most promising CEM solution providers in 2020. CIO Review is known for helping management teams choose the most efficient business solutions for their specific requirements. This recognition allows us to showcase our enterprise customer feedback management system to new markets. So it's a very exciting time for us."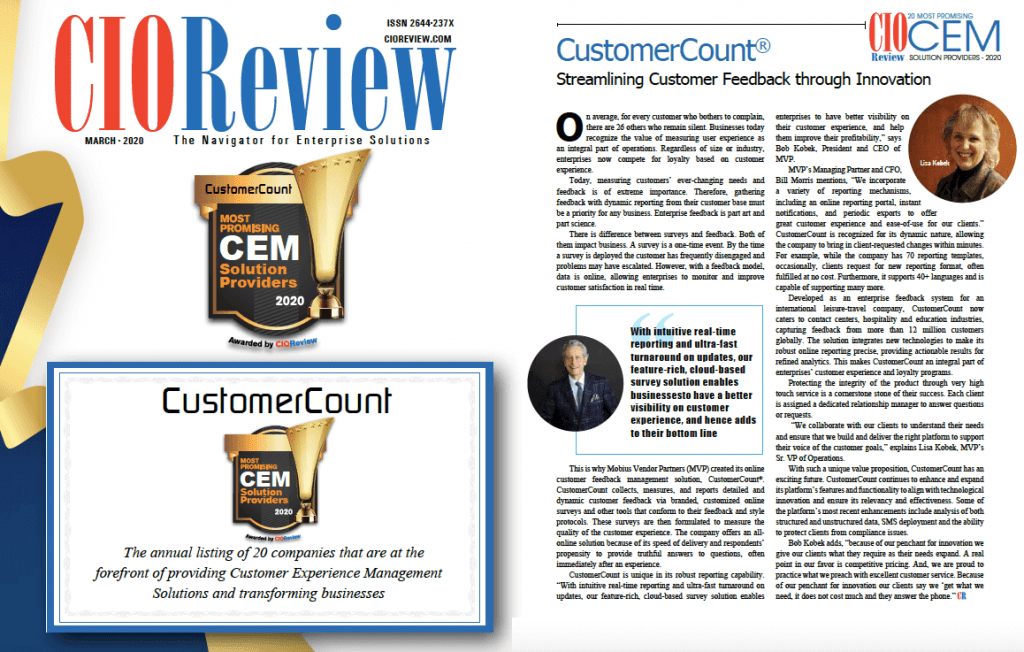 Why do Customer Experience Management Solutions matter?
Regardless of their size or industry, businesses today now compete for loyalty based on customer experience. Loyalty cannot, and should not, be taken for granted. So measuring your customers' feedback is more important than ever.
While a customer survey is a one-time event, the feedback model allows businesses to continually monitor customer feedback. Then, they can use the data to improve customer satisfaction, and improve loyalty, in real time.
But to do this efficiently, business need a robust customer feedback management solution. And CustomerCount offers just that.
What is Customer Feeback Management?
Created by Mobius Vendor Partners over 20 years ago, CustomerCount is an online customer feedback management solution that collects, measures, and reports detailed and dynamic customer feedback. This is managed via branded, customized online surveys and other tools that conform to a company's feedback and style protocols.
These surveys are then formulated to measure the quality of the customer experience. The company offers an all-online solution. This is because of its speed of delivery and respondents' propensity to provide truthful answers immediately after an experience.
Reporting on the customer experience data collected is critical and CustomerCount is unique in its robust reporting capability.
Kobek adds: "We offer intuitive real-time reporting and ultra-fast turnaround on updates. As such, our feature-rich, cloud-based survey solution enables enterprises to have better visibility on their customer experience. And this can help them improve their profitability."
Incorporated within the software is a variety of reporting mechanisms. This includes an online reporting portal, instant notifications, and periodic exports to offer great customer experience and ease-of-use for our clients. While the company has 70 reporting templates, clients often request new reporting formats. The CustomerCount team is able to fulfill these requests – often at no cost. Furthermore, it supports 40+ languages and is capable of supporting many more.
CustomerCount was initially developed as an enterprise feedback system for an international leisure-travel company. Today, we cater to contact centers, hospitality and education industries, capturing feedback from more than 12 million customers globally.
Constantly innovating, CustomerCount is always improving its platform's features and functionality. This ensures we align with technological innovation and remain both relevant and effective. Some of the platform's most recent enhancements include:
Find out more about CustomerCount with a demo
If you are looking to improve the customer experience at your business, then book an online demo of CustomerCount's recognized feedback management software today. Find out what your customers are thinking. Learn what they need from your business and make decisions based on the results.
Says Kobek: "We are proud to practice what we preach with excellent customer service. Our clients say: we get what we need, it doesn't cost much and they answer the phone."