Who we are – Mobius Vendor Partners
Formed and organized in 1999, Mobius VP, LLC (MVP) is a business process design, management and performance improvement Company, which later became focused on data feedback, interpretation and analysis.
Today, it is regarded as a leader in the design, development, and deployment of consumer and employee satisfaction and feedback surveys utilizing its cutting-edge, industry leading, technology platform known as CustomerCount™.
MVP offers extensive expertise in the areas of
Business Process Consulting
Business Relationship Management
Contact Center Advisory Services
Cyber Security
Data Collection & Feedback Services including but not limited to:

Health Care Patient Experience Measurement (PX)
Hospitality Guest Experience Measurement
Employee Experience Measurement
MVP is a highly valued partner and resource, with a reputation of taking the simple and ordinary and creating outcomes that are both remarkable and efficient.
CustomerCount™ is a flexible, online consumer and employee feedback management system, that provides:
Intuitive real-time reporting,
fast turnaround on updates,
detailed and dynamic data gathering, and
comprehensive reporting designed to emphasize process improvement and overall consumer and employee loyalty to improve profitability.
The branded data collection and feedback system presents survey-able metrics to respondents that measure:
Participation
Satisfaction
Key performance indicator.
And offering:
Secure channels

 

customized reporting solutions,

 

real-time online access that is available 24-hours per day, 7-days per week and 365-days per year.

 

multiple question types including, scale, text, radio button, multiple choice, rank order, and verbatim response,

 

data in more than 40 languages,

 

measurement and analysis of Net Promotor Score ("NPS")

 

response text analytics,

 

qualitative data analysis
HIPAA qualified, ADA compliant, TCPA compliant, CCPA compliant, GDPR compliant
Strategic Partnerships are in place including Trip Advisor, Inc., affording participating clients the opportunity to have survey respondents submit TripAdvisor® reviews directly from the CustomerCount™ survey platform.  
The platform also offers device recognition capabilities, allowing the deployment of client surveys across any fixed or mobile device. 
Our Mission  (what we are here to do)
MVP is committed to a culture of demonstrating respect for our clients and partners  by delivering clear, precise product and service deliverables. 
Our goal is to earn loyalty and to foster positive and sustainable processes to benefit our clients and our environment, while upholding our duties as responsible corporate citizens. 
Our Vision (what we aspire to be)
MVP believes its clients' loyalty is what ensures continued long-term success.
To earn that loyalty, we strive to evolve into an organization rooted in transparency, accountability, and positive social and environmental impact in everything we do.
Our History and Culture
From our creation in 1999 MVP delivered leading advisory and oversight roles in the development and design of various contact center operations, as well as in the assessment and evaluation of numerous business processes.  
We evaluated our clients and strategic and tactical decision makers and evolved our services to deliver user-driven reaction and response when evaluating company products and services.
MVP developed the ability to combine industry and market specific subject matter expertise with a state-of-the-art technology platform introducing a complementary line-of-business designing, developing and deploying on line consumer and employee surveys.  
We believe that this reliance on – and demand for – timely and current information feedback streams will continue to exponentially grow globally, increasing the value of the products and services offered by the Company.  
MVP's proprietary data collection and feedback platform – CustomerCount – is actively contracted for use across more than 25 unique organizations, representing more than 160 individual locations and more than 40 languages.
The following is a timeline depicting MVP's key accomplishments:
Our Roadmap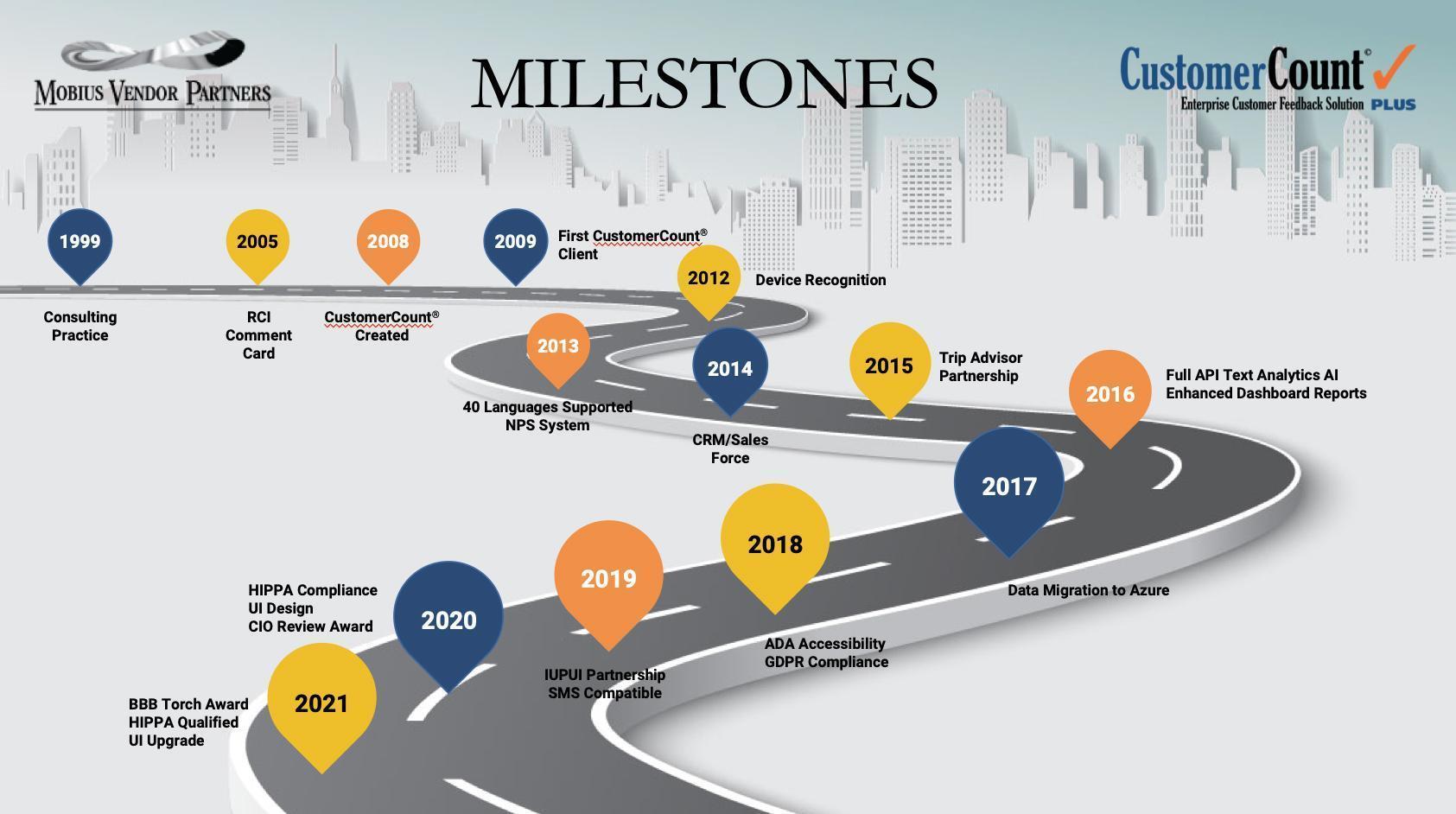 Contact Us
Thanks for your interest in our many services. You can contact us with anything related to CustomerCount.
We'll get in touch with you as soon as possible.
Our Address
• 3925 River Crossing Parkway, Suite 60,Indianapolis
• Indianapolis 46240
Learn More
Would you like to know how YOUR business can use CustomerCount?
Book a demo to find out more.